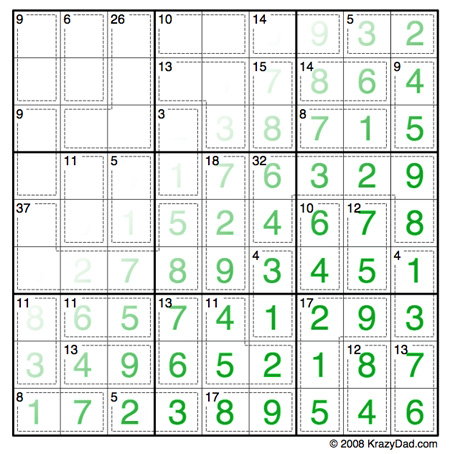 A few readers have written to me in the last few months, requesting Killer Sudoku puzzles, so I've been feverishly working weekends to get some ready for the website. They are just about ready to go, and I'm ready to pass out samples.
Killer Sudokus are an interesting hybrid between the Sudoku and Kakuro puzzles currently offered here at KrazyDad. Solving them requires both the complex logical strategy used in Sudoku, in combination with all the arithmetical strategies used in Kakuros. If you have not tried them before, you will find them extremely challenging — a little slow-going at first, but very rewarding. My wife, a former Kakuro addict, is now addicted to them.
I'm providing these sample puzzles both to give you a taste, and also to double-check I haven't made any horrible programming mistakes. You'll find instructions printed on the puzzles.
If you notice any problems with these puzzles, or you find the instructions unclear, be sure to let me know!
UPDATE: I've created a new Killer Sudoku section on the site. Currently there are three difficulty levels offered, with more difficult puzzles to come…