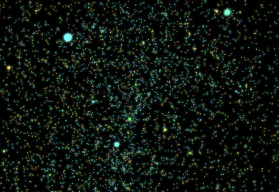 Click the image to watch and hear my musical clock made of the stars.
To make this, I downloaded public data from Hipparcos, a satellite launched by the European Space Agency in 1989 that accurately measured over a hundred thousand stars. The data I downloaded contains position, parallax, magnitude, and color information, among other things.
I used this information to plot the brightest stars, and cause them to revolve about Polaris (the North Star) very slowly, as the stars appear to do. Like the night sky, this is a sidereal time clock — it takes nearly 24 hours for the stars to fully rotate. You'll notice some familiar constellations, such as the Big Dipper in there. As the stars cross zero and 180 degrees, indicated by the center line, the clock plays an individual note, or chime for each star. The pitch of the chime is based on the star's BV measurement (which roughly corresponds to color or temperature). The volume is based on the star's magnitude, or apparent brightness, and the stereo panning is based on the position on the screen (use headphones to hear it better).
Basically, this is a very literal kind of "music of the spheres," and is typical of my projects, which often involve circles and music. This idea for making a music box out of stars was a natural progression from some previous projects of mine, like the Whitney Music Box, and Musical Chess, which you might also enjoy.
If you'd like a large, high fidelity Wheel of Stars to project on the ceiling of your home, gallery or museum, contact me. I'd love to build you one, or provide you with plans and software.