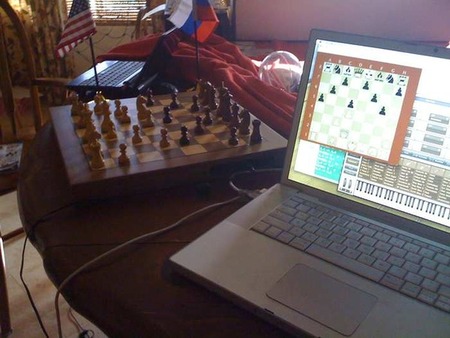 You're looking at a hybrid music/chess system that I've created, in preparation for a concert of new and experimental music in late June. The chessboard on the left (a Novag Citrine) is wired to the computer via a serial/USB cable. When people play on the chessboard, the computer monitors their moves, and attempts to figure out the best possible response. As the computer does this, it produces music (by sending MIDI events to sampling software on the same computer). The music is (at the moment) a fairly literal translation of what the computer is thinking. The idea is to put the listener "inside the mind" of a chess computer. This project merges two of my great lifetime obsessions: Music and Computer Chess (I'm not much of a chess player, but I've been making computer chess software for years…).
For the concert, I have engaged the services of two performers who are going to reenact a famous match between Garry Kasparov and IBM's Deep Blue computer (shown below). My piece is called:
Kasparov vs. Deep Blue, 1997, Game 6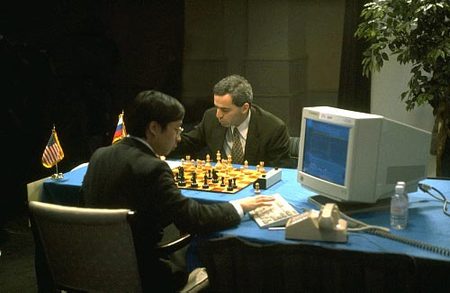 As the performers play this historically significant chess game, the first match in which the world human champion lost to a machine under tournament conditions, my musical chess system will analyze the moves, and you will hear the analysis. Since my own chess software is not nearly as good as Deep Blue, I have named it "Shallow Brown" — you figure it out! Coincidentally, "Shallow Brown" is also the title of a sea chanty (perhaps inspired by the bilge water being pumped while it was sung…).
There have been an enormous number of challenges involved in making this system work, and much work remains. While solving the myriad technical issues, I haven't had much time to work on the musicality of this piece – but I have a few more weeks to go yet! With that disclaimer out of the way, I offer a brief audio sample of my chess engine, as it thinks about a chess position.
Shallow Brown – The Musical Chess Engine
Here's a longer sample – about a minute from the middle of the Kasparov/Deep Blue game, after I did a little work on assigning different instruments to the two opponents.
Kasparov vs. Deep Blue, Excerpt
Kasparov gets mostly string sounds, and is heard more from the left channel. Deep Blue gets more mallet instruments, and is heard more from the right. I play the Deep Blue analysis a little deeper into the look-ahead tree, which produces more rapid-fire (and robotic-sounding) ostinati.
This piece is just one of a number of interesting new works, all inspired by machines of different kinds, to be performed, Friday Evening, June 26th in Los Angeles.
NewTown Presents
Cranks, Cams and Computers
New Machines, New Music
Friday, June 26

GLAD (Greater L.A. Agency on Deafness)
2222 Laverna Avenue,
Eagle Rock, CA 90041

Installations open 6:00PM
Performances at 8:00PM

Admission $10.00
$5.00 NewTown and Eagle Rock Center for the Arts members

Installations by
Jim Bumgardner
Carl Burmeister
Joe Cantrell
Daniel Corral
Joe Potts
Gary Raymond

Performances by
Jim Bumgardner
Carl Burmeister
The Crank Ensemble
Frank Pahl
Gary Raymond

NewTown House Band
Joe Berardi
Lewis Keller
Jessica Catron
William Roper

Information:
NewTown
(626) 398-9278
www.newtownarts.org
info@newtownarts

Made possible by grants from Los Angeles County Board of Supervisors through the Los Angeles County Arts Commission, City of Los Angeles Department of Cultural Affairs and NewTown Members' donations.
Here's a Facebook Event Page I've set up for the concert.
I should mention that in addition to the chess piece, I'm also working on an installation of a number of my Whitney Music Boxes for this show.
So… if machines, cranks, cams, pianolas, and strange musical machines turn you on, and you're going to be in the Los Angeles area — keep the evening of June 26th open!
UPDATE:
VENUE CHANGE
Due to circumstances beyond anyone's control, there has been a last minute change of venue for Friday's show, originally scheduled for Center for the Arts, Eagle Rock.
New Location:
GLAD (Greater L.A. Agency on Deafness)
2222 Laverna Avenue, Eagle Rock, CA 90041
This is just a few blocks away from the original location.
UPDATE:
Video of the performance can be viewed here.