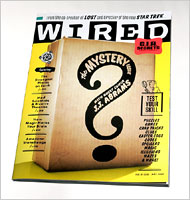 A few friends recommended I check out the May issue of Wired, so I finally picked up a copy at the airport today. They were right — this is the best issue of Wired I've seen in a few years!
Wired is one of many magazines that has been noticeably suffering from the downturn in the publishing industry, and I had allowed my subscription to lapse a few months ago. This issue, which was guest-edited by J. J. Abrahms, is full of fun little puzzles, and articles about mysterious things, such as the Georgia Guidestones. Even the logo font on the cover has been improved for this issue (I wish they'd keep it!).
Apparently, the puzzles in this issue go a little deeper than they appear on the surface. I imagine the puzzle solvers who visit this website (even those who are not regular Wired readers) will enjoy this issue as well. Check it out!
On a related note, I recently picked up 23 volumes of the Time-Life series, Mysteries of the Unknown, on Ebay, for a song (about a dollar a book). The production values in those old Time-Life books was remarkable, especially when contrasted with the shape the publishing industry is in today.