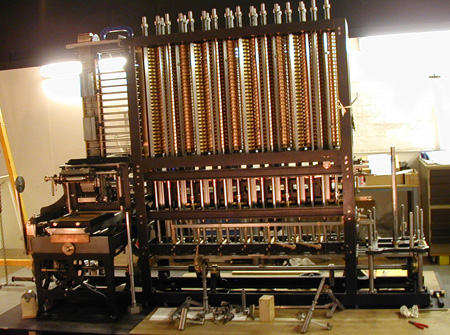 The Computer History Museum in San Francisco has some very cool video of a pristine reproduction of Charles Babbage's Difference Engine No. 2 in operation, which you can see on their website.
Although Babbage never completed one of these machines, former Microsoft CTO Nathan Myhrvold has had one built for his private collection, and it goes on display at the San Francisco museum (on loan from London's Science Museum, which has built two of them) on May 10.
You see, this is what happens when giant nerds make a lot of money. I want one!
Here's a transcript of an interesting lecture by London Curator Doron Swade that has a lot of inside information about the project. Interestingly, Doron disagrees with the commonly repeated notion that Babbage failed to build the Difference Engines because of technological limitations of Victorian tool technology. Instead Doron blames an intricate web of non-technological issues, including personal politics and expense.