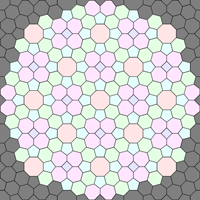 I'm working on a set of Slitherlink puzzles based on the Islamic-inspired tiling shown here, from Ensor Holiday's book "Altair Design". The pattern contains tiles with 4,5,6,7 and 8 sides, which makes the puzzle a little more interesting than my previous Slitherlinks, which only use tiles with 4 sides.
You can preview some sample puzzles by downloading this PDF file and printing it.
Thanks to Craig Kaplan for suggesting the use of the Altair tiling.
UPDATE: Here are 100 booklets of these new puzzles. Enjoy!