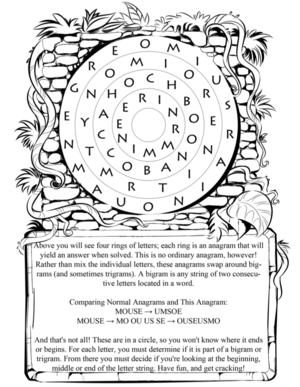 Looking for a little more variety in your daily puzzle consumption?
Gregory Gray wrote to tell me about his indie puzzle magazine, Topple. Each issue costs a buck to download and print yourself, and there is a very wide variety of puzzles, many with illustrations which remind me a bit of the Sam Loyd Cyclopedia, if you know what that is.
Greg is currently up to Issue #7, as of this writing. The latest issue contains 16 puzzles, of which four are Nikoli style puzzles (Masyu, Hashi, Nurikabe, Kakuro) and the others are from further afield. I very much like the anagram ring puzzle shown here.
Here's a sampler that Greg sent me.
And here's the website where you can get more!