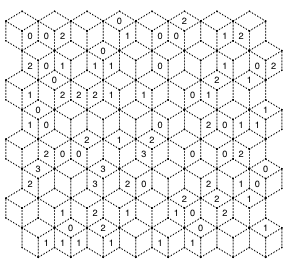 Fans of my variety slitherlinks will enjoy these two new sets of puzzles, based on two different Rhombille tilings supplied by reader Lars Huttar.
The first set (shown here) is a basic rhombille tiling with intersections containing 3 and 6 vertices.
The second set contains intersections of 3, 4 and 5 vertices.
Rhombille Set #1 (six puzzles)
Rhombille Set #2 (six puzzles)


UPDATE: Here's a full set of these puzzles, using the second tiling..