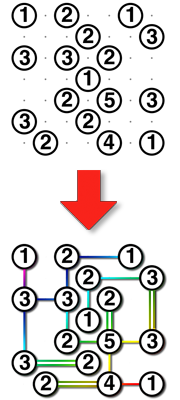 Hey folks, I've added some new Bridges puzzles to the site. In Japan, Bridges are known as Hashiwokakero which means "Bridge Building". They are also known here as Hashi.
In these puzzles, you are presented with a collection of numbered circles, which represent islands. You connect the islands with bridges to form a network of roads so that you can reach any island from any other island. The number on each island indicates the number of outgoing bridges. You may only connect islands horizontally or vertically, and you may use one or two bridges to connect islands, but no more than two. Each Bridge puzzle has only one unique solution, which you can find without guessing.
Fans of Bridges will probably also like the Galaxy and Slitherlink puzzles in my collection, which also involve spatial reasoning.