The headline: jbum looks for new job.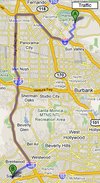 For the past three years or so I've been commuting an hour and change to Santa Monica from the Burbank/Pasadena area. First to Yahoo! where I did front-end development for Yahoo! Music, and then to Topspin, a music industry startup that helps musicians acquire fans and sell music to them. Both remarkable companies where I worked with a lot of excellent people. They made the commute bearable.
Still, three years is a long time to be driving that far, and not quite doing what I really need to be doing.
So I've decided to try to find work that is more closely aligned with my core interests, and that is closer to home (Burbank/Pasadena/Glendale area). I'll be transitioning from a full-time employee at Topspin to a consultant, and I have worked out a schedule with those aforementioned excellent people to make it happen. Ian, Shamal, Kris, Bob and many others at Topspin have been wonderfully accommodating about this. They're good people. Did I mention they made the commute bearable?
So what are my core interests? If you are a regular reader of this blog, you will have a good idea. My interests are fairly wide ranging, and involve art, mathematics, computer graphics, music, audio, puzzles, games, and history. I also love teaching (and have mastered the art of keeping students awake). I'm very good at making software tools for digital artists, and front-end or application programming in various languages – something I've been doing for a long time. I can be a good writer when I need to be.
I'm not particularly interested in making shopping carts, or business programming.
I don't expect to find a full-time position that is both adequately stimulating and local in a short stretch of time, so I may be taking on additional consulting work in a couple months or so. We'll see.
So, if you spy anything shiny in my neck of the woods, please let me know!