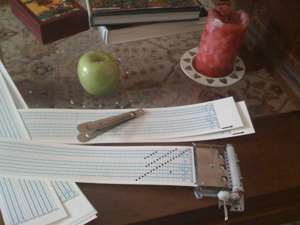 The other day I found this DIY music box kit over at Think Geek, but they were out of stock.
So I found a supplier in the UK, called Grand Illusions. They actually carry two models, including one with a larger number of tines (20 tines covering a 2 1/2 octave diatonic range ). Naturally I got the big one, and a packet of extra blank strips. :)
Now I'm wondering if I can use my Mindstorms parts to build a Lego robot that will punch the holes and turn the crank, so I can automatically convert MIDI files to music box strips… We'll see. Right now I'm just having fun making stripey patterns.
UPDATE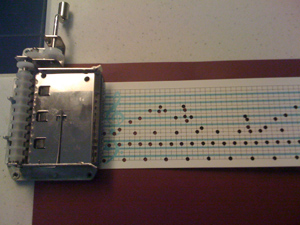 Well here's my first hand-punched piece (aside from the stripey pattern shown above) : A little music box etude based on an old piano piece of mine. Took about an hour to plan and an hour to punch.
I found it helpful to place dots on the paper with a red marker first, so I didn't have to do too much thinking about alignment when punching the holes. When I was done punching the holes, the table was littered with little notes.