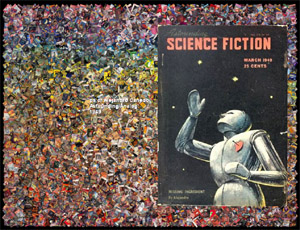 An intriguing idea for a photo-archive browser has been burning a hole in my brain for the past couple of weeks: A huge number of micro-thumbnails on an enormous virtual coffee table, arranged by color and time – mouse-over the micro-thumbnails to zoom 'em up to full-sized thumbnails. I'm calling it a "CoverPop".
I had some free time on Saturday so I finally got around to implementing it, using some wonderful images from the Visual Index of Science Fiction Cover Art (VISCO), courtesy of Terry Gibbons.
This morning, I submitted it to the blog Boing Boing where Cory Doctorow described it as "mind-blowingly awesome." If you love science fiction art, as I do, you'll want to spend a little time playing with my new toy.
Here ya go! The SF Cover Explorer.
If you have another large photo archive that would benefit from the coverpop treatment, let me know.