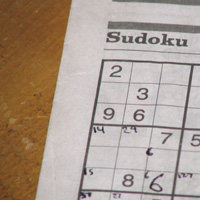 Sudoku is a game of pure logical deduction, just like Kakuro and other Japanese number puzzles. Unlike games of luck such as card and bingo games, guessing is never required.
I've now learned a number of methods for solving tough Sudoku puzzles by hand, including X-Wing, Swordfish, Jellyfish, Squirmbag, Turbot-fish, XY-Wing, XYZ-Wing, Conjugate Pairs, Bowman Bingo, Simple Coloring, Super Coloring and Tabling.
I have not yet found a single website that explains all of these techniques in one location, so I thought I'd provide some links to the various websites where I discovered these techniques.
The Sudoku Strategy page explains most (but not all) of the simpler "pattern-matching" techniques. Techniques explained here include:
The first 6 methods listed above (Naked Single thru Hidden Subset) are sufficient to solve all the "Easy" through "Challenging" puzzles I provide on this site, and most easy/medium newspaper puzzles. The remaining strategies don't come into play until the Tough puzzles.
Although the XWing (and Swordfish) patterns are easy to spot, statistical analysis shows they do not occur very often. I've found the XY-Wing and XYZ Wing patterns occur much more frequently, and are good weapons to have in your solving arsenal. These strategies are especially good for solving the Tough and Super-Tough puzzles I offer here.
I find the various coloring/colouring and tabling methods to be too work-intensive for human use – they really make more sense for computer solvers, but sometimes they are the only methods you can use to solve a really hard puzzle.
Finally, Michael's Mepham's Book of Sudoku contains an excellent 10-page introduction with various solving strategies, in addition to numerous puzzles.
UPDATE: Eduyng Castaño wrote to me about a technique he has discovered called Golden Chains (pdf). The technique is a generalization of XY-Wing, and solves many of the same puzzles that can be solved by other advanced techniques such as conjugate pairs, and coloring, but it does not feel as much like 'guessing' as those other techniques. I have successfully used it to solve a number of my 'super tough' puzzles. It is particularly effective when a puzzle has been reduced to a lot of squares containing only 2 possibilities.